IIT/Engineering
IIT Hyderabad's Electric Two Wheeler Startup enters International Market
New Delhi :
Indian Institute of Technology Hyderabad's (IIT-H) incubated Electric Two Wheeler Startup 'PURE-V' is launching 'EPluto7G', an eco-friendly two wheeler in Nepal. This move is part of a larger plan to expand to other international markets next year with a particular focus on South Asia, South-East Asia and East African countries, where 2-wheelers are predominant.
Looking for good distribution partners –
According to a statement released by the company, a unique point of this vehicle is that the battery and the vehicle have been designed and developed factoring in the gradient requirements of Nepal. PURE EV's expansion into Nepal is part of a larger strategy to export to international markets having predominantly two-wheeler mode of transportation for personal mobility. The startup is also looking for good distribution partners for other markets who can create an efficient channel network for vehicle sales and service in the target markets.
The startup is partnering with White Lotus Motors (WLM) for distribution of its EV two-wheelers in Nepal. WLM will establish two outlets in the capital city of Kathmandu. PURE EV plans to launch more models in the near future.
.@IITHyderabad's incubated startup 'PURE EV' is launching 'EPluto7G' – an eco-friendly two-wheeler in #Nepal. 'PURE EV' works on the development of long-range & high-performance Lithium batteries.

Wishing them lots of luck on their new venture!https://t.co/FS4U86Rccq pic.twitter.com/wsYiAiZb1W

— Dr. Ramesh Pokhriyal Nishank (@DrRPNishank) October 10, 2020
E-bike is a bicycle with an integrated electric motor –
An electric bicycle also known as an e-bike or ebike is a bicycle with an integrated electric motor which can be used to assist propulsion. Many kinds of e-bikes are available worldwide, from e-bikes that only have a small motor to assist the rider's pedal-power (i.e. pedelecs) to more powerful e-bikes which are closer to moped-style functionality. All retain the ability to be pedalled by the rider and are therefore not electric motorcycles.
Electric motor combines battery propulsion –
E-bikes function like hybrid electric vehicles since the electric motor combines battery propulsion with another source of electricity but this time by pedal power instead of internal combustion engine power so in some cases the terms used would be hybrid electric bicycle or hybrid pedal-electric bicycle.
IIT Dharwad designs mobile app to detect Fake News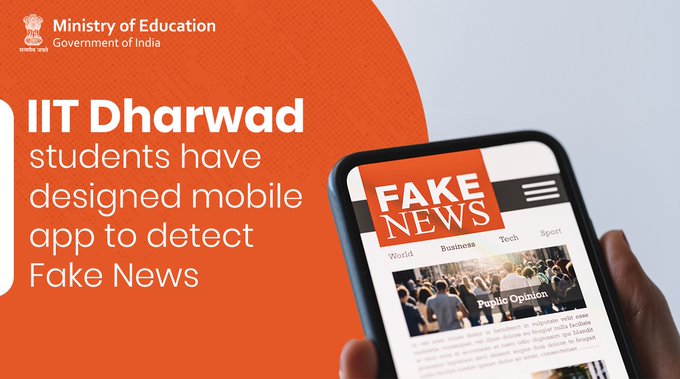 New Delhi :
Indian Institute of Technology (IIT) Dharwad students have designed a mobile app which will be able to detect Fake News. In today's era, when we have what's app universities, social media groups which has raised the spread of fake news to a level in a few years, it is really important to have some technology to stop the spread of fake news.
Damaging the reputation of a person –
Fake news is untrue information presented as news. It often has the aim of damaging the reputation of a person or entity, or making money through advertising revenue. Fake news is a neologism . Fake news, or fake news websites, have no basis in fact, but are presented as being factually accurate.
Dr. Ramesh Pokhriyal 'Nishank' Tweeted –
Education Minister Dr. Ramesh Pokhriyal 'Nishank' on this Innovation:
Dr. Nishank tweeted, "Students from @iitdhrwd have designed a mobile app which will help detect FakeNews." He further added, "The app will be launched in 2 months and will help curtain the spread of disinformation."