IIT/Engineering
Clinically approved drug 'Teicoplanin' could be potential medicine for COVID-19, says IIT Delhi
New Delhi :
Indian Institute of Technology Delhi (IIT Delhi) researchers has said that clinically approved drug 'Teicoplanin' could be potential therapeutic option against COVID-19.
About 'Teicoplanin' drug –
Teicoplanin is an antibiotic used in the prophylaxis and treatment of serious infections caused by Gram-positive bacteria, including methicillin-resistant Staphylococcus aureus and Enterococcus faecalis. It is a semisynthetic glycopeptide antibiotic with a spectrum of activity similar to vancomycin. Its mechanism of action is to inhibit bacterial cell wall synthesis.
Length of the hydrocarbon chain –
Teicoplanin is marketed by Sanofi-Aventis under the trade name Targocid. Other trade names include Ticocin marketed by Cipla(India). Oral teicoplanin has been demonstrated to be effective in the treatment of pseudomembranous colitis and Clostridium difficile-associated diarrhoea, with comparable efficacy with vancomycin. Its strength is considered to be due to the length of the hydrocarbon chain. Teicoplanin is 10x more effective than other drugs screened: Ashok Patel, Professor at IIT Delhi. The research by the institute's Kusuma School of Biological Science screened an assemblage of 23 approved drugs, which have shown leads towards being therapeutic options for coronavirus.
The need of the hour!
According to a study by @iitdelhi, clinically approved drug "Teicoplanin" is a potential therapeutic option against #Covid19 & can be 10x more effective in the treatment. pic.twitter.com/pzZHFUVqM5

— Ministry of Education (@EduMinOfIndia) October 11, 2020
Hydroxychloroquine in our laboratory conditions –
"While the effect of Teicoplanin was compared with other important drugs in use, Teicoplanin was found to be 10-20 fold more effective than the chief drugs being used against SARS-CoV-2, such as Lopinavir and Hydroxychloroquine in our laboratory conditions," said Ashok Patel, Professor at IIT Delhi. "Recently, there has been a clinical study carried out with Teicoplanin at Sapienza University in Rome. However, a more detailed clinical investigation is required on a large cohort, in different stages mild, moderate and critically ill patients to conclude the definite role of Teicoplanin against COVID-19," Patel said.
India's corona virus tally galloped –
Globally, over 3.2 crore people have been infected with COVID-19, and the total number of deaths from the deadly virus now stands at over 9.80 lakh. India's corona virus tally galloped past 60 lakh on Monday with 82,170 new cases, while the number of recoveries surged to 50.17 lakh after 74,893 more people recuperated, the Health Ministry said.
Research Published –
The research was lead by Ashok Patel, Professor at IIT Delhi who was assisted by Dr Pradeep Sharma from AIIMS. The research has also been published in the International Journal of Biological Macromolecules.
IIT Kharagpur launches Telemedicine System to provide Healthcare Support at Patient's Doorstep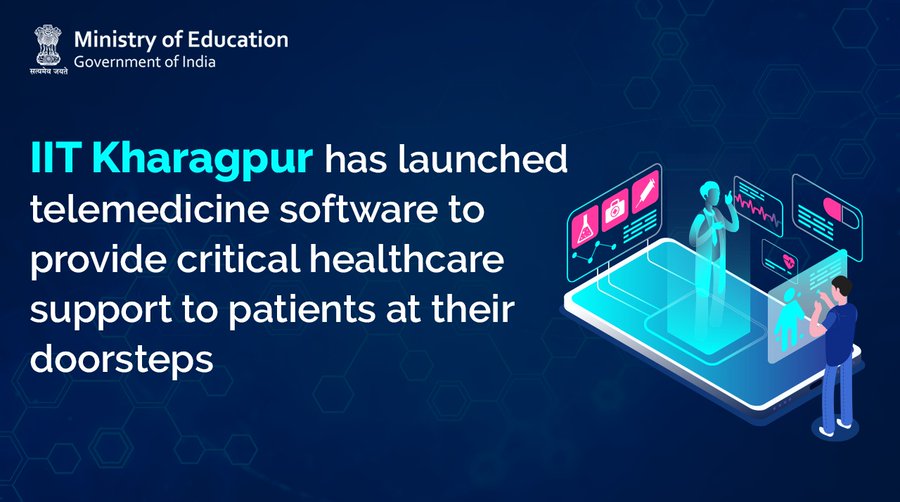 New Delhi :
Indian Institute of Technology (IIT) Kharagpur researchers has launched telemedicine software 'iMediX' which will provide critical healthcare support to patients at their doorstep. The patients will receive a consultation by physicians without having to go to the hospitals and clinics.
Standard internet browser –
The system iMediX which is accessible by any standard internet browser has been developed by the researchers at IIT Kharagpur Department of Computer Science and Engineering, said an Institute Spokesperson. This software provides with the facility to the patient to sign up and get an account by filling details like Email ID and their Contact Number. The patient can make a request for consultation by choosing a department of the hospital, entering their chief complaints and uploading necessary scanned medical records. The hospital administration processes the request and assigns a doctor. The doctor after logging in sets an appointment date and time for the patient and the system communicates the information to the patient by mail and SMS.