IIT/Engineering
Trending
IIT Kharagpur's COVID-19 Testing Technology certified by ICMR
New Delhi,
Indian Institute of Technology (IIT Kharagpur) researchers have developed 'COVIRAP,' the diagnostic machine which has been successfully validated for its efficacy in COVID-19 detection by the Indian Council of Medical Research (ICMR). Various commercial units have already approached the Institute for technology licensing to enable a rapid reach of this innovation to the common people.
Certification for this COVID-19 Diagnostic Test –
After rigorous testing with patient samples by an authorized ICMR laboratory, adhering to their strict guidelines, ICMR has now granted certification for this COVID-19 Diagnostic Test. This test has been designed to be fairly easy to conduct and affordable as well and can produce results in a custom-developed mobile phone application within one hour.
Dr. Ramesh Pokhriyal Nishank Said that –
"I am glad the researchers from IIT Kharagpur have achieved the goal of Atmanirbhar Bharat through this medical technology innovation. I congratulate Prof. V.K. Tewari, Director, IIT Kharagpur, and the research team led by Prof. Suman Chakraborty and Dr. Arindam Mondal for this path-breaking innovation taking molecular diagnostics from high-end labs to the field.", said Dr. Ramesh Pokhriyal Nishank, Hon'ble Minister of Education, Government of India
Game-changer for COVID-19 diagnostics –
Dr. Shanta Dutta, Director of ICMR-NICED said, "While overseeing the testing and validation, I was very impressed with the portable low-cost machine unit that can truly be a game-changer for COVID-19 diagnostics at peripheral laboratories with the support of unskilled human resources as operators. This now needs a rapid commercial scale-up to cater to the needs of the underserved population. ICMR-NICED will be pleased to facilitate support for further improvisations in the method towards even superior performance."
Technology affordable to common people –
This innovation has made high-quality and accurate COVID testing affordable for the common people with a testing cost of around ₹ 500/- which can further be reduced through government intervention. As informed by IIT Kharagpur, this machine can be developed at a cost of less than ₹ 10,000/- with minimal infrastructural requirement making the technology affordable to common people. The testing process in this new machine is completed within one hour.
Further, this would go on impacting the lives of many in rural India as the device is portable and can be operated on a very low energy supply. Minimally trained rural youth can operate this device.
IIIT Hyderabad study confirms that our playlists mirrors our mood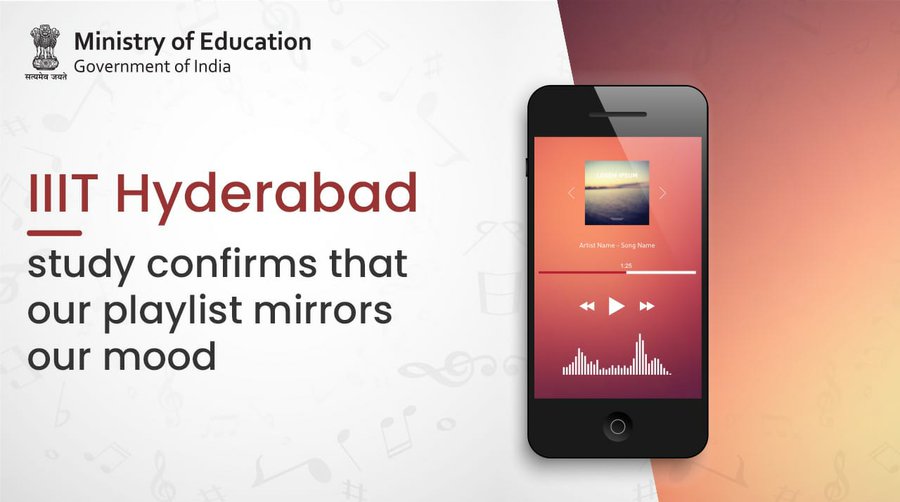 New Delhi,
Sounds are all around us, from birds chirping and waves lapping against a coastline to cars honking in traffic. But sometimes sounds are put together in purposeful ways to create a specific atmosphere or to express ideas or emotions. Such organized sounds are called music. That music heals and enthrals is not news. A number of studies across the world have studied the impact of music on human beings and animals. Here's a new study by researchers at the International Institute of Information Technology (IIIT-Hyderabad).
Listening to music is not a passive activity –
International Institute of Information Technology (IIIT-Hyderabad) throws light on the link between people listening to sad songs and their mood. It can leave enough hints at people on the verge of getting into depression. "Listening to music is not a passive activity but one that holds a mirror to the self," Vinoo Alluri of the Cognitive Science department at IIIT-H, says. She, along with her students Aayush Surana and Yash Goyal, has tried to identify music listeners with depressive tendencies from their (music) listening habits.